Not sure about your condition? Get in touch now, there is no reason for you to wait.
Verrucae Treatment and wart removal In London.
Warts and verrucas are one of the most common skin problems in the UK. Most people will have a wart or verruca at some point in their lives. Although these small growths are usually harmless, they can be unsightly or uncomfortable if they are in the wrong place. Treatments are available that can remove your warts and verrucas in various ways.
WHAT ARE WARTS AND VERRUCAE?
Warts are caused by the human papilloma virus, which enters the skin surface, causing growth and thickening of the top (epidermal) layer of the skin. This produces the rough, hard texture of a wart. The strain of HPV that causes warts and verrucas is different from the ones that are linked to cervical cancer, so you can get a wart or verruca even if you have had the HPV vaccine.
Verrucas are simply warts that have formed on the sole of the foot. Since they are under pressure from the foot, verrucas are usually flatter than warts. Verrucas are also more likely to feel painful, because of this pressure.
Warts are contagious, and close skin-to-skin contact can pass on the infection. The risk of infection is increased if the skin is damaged or wet and in contact with roughened surfaces, for example, in communal swimming pools. If you want to swim then it is best to cover warts and verrucas with waterproof plasters in order to prevent them from spreading to other people. You should also avoid sharing towels, socks or shoes as these could carry the virus if they have been in contact with warts or verrucas.
The virus that causes warts and verrucas can also spread to other parts of your own skin. This is why people often end up with a cluster of growths in one area. You should try to avoid scratching or picking at a wart or verruca as this could move the virus around, enabling it to create new growths.
After becoming infected, it can take several weeks for a wart or verruca to appear. The immune system can sometimes get rid of warts and verrucas by itself, but this process could take months or even years. Most people will therefore want to seek treatment for warts and verrucas in order to get rid of them more quickly.
Most people will have warts at some point in their life, though they tend to affect children and young adults. Warts are generally not painful, though verrucas can be sore to stand on. Some people find their warts embarrassing and those on the fingers may interfere with normal daily activities. Without treatment, the length of time it takes a wart to disappear will vary between people. As a rough guide, about a third of warts have gone within three months, and most will have resolved within 2 years. Verrucas can take a lot longer than this to disappear.
WHAT DO WARTS AND VERRUCAE LOOK LIKE?
Warts appear most often on the hands and feet, though they can spread to other parts of the body, for example around the nails, lips and genitals. Verrucas are warts that develop on the soles of the feet. Warts vary in appearance depending on where they are on the body and how thick the skin is but the common wart is often round, firm and raised, with a rough or 'warty' surface (see pictures). On close inspection, many tiny black dots may be seen in the centre, caused by ruptured blood vessels. These ruptured blood vessels are more likely to be seen on verrucas, because they have been compressed underneath the foot.
Warts and verrucas can be classified into several different types based on how they look:
Common wart: a round, raised growth with a rough surface that is sometimes compared to the texture of a cauliflower. These types of warts are usually seen on the hands and can grow up to 1cm across, although most are just a few millimetres in diameter.
Plantar wart or verruca: a wart on the sole of the feet that usually looks flattened and has tiny black dots in it where the blood vessels have burst. Clusters of verrucas can sometimes join together to form mosaic warts.
Flat or plane wart: a smooth, round growth that can be flat or slightly raised. These types of wart often appear on the face, neck, legs or the backs of the hands. Sometimes they form large clusters of tend or even hundreds of warts.
If you notice any unusual growths or patches on your skin then it is always best to get them checked by an expert. Although it is probably just a wart or verruca, there is a small chance that a growth could be something more serious such as a skin cancer.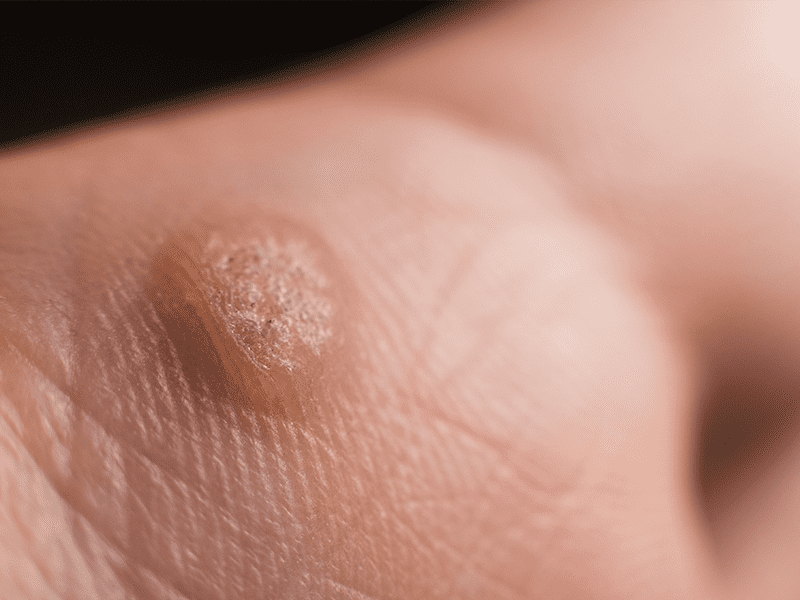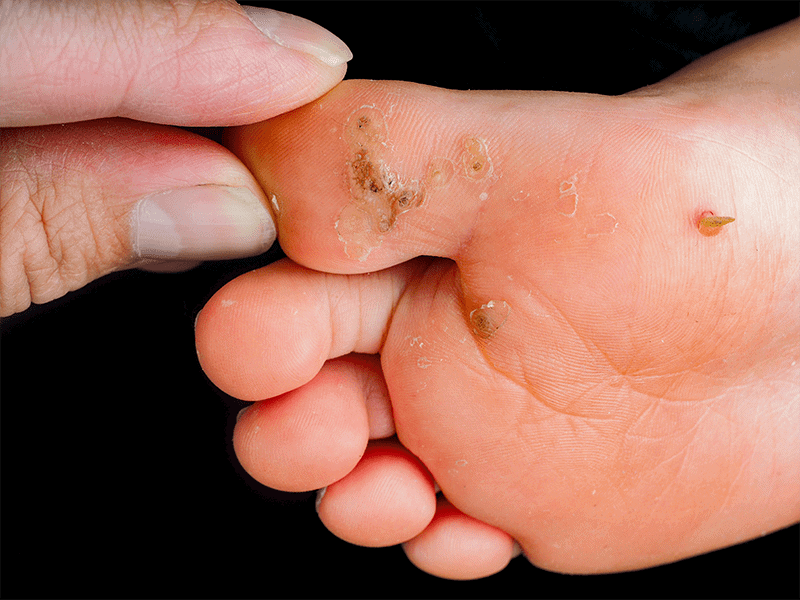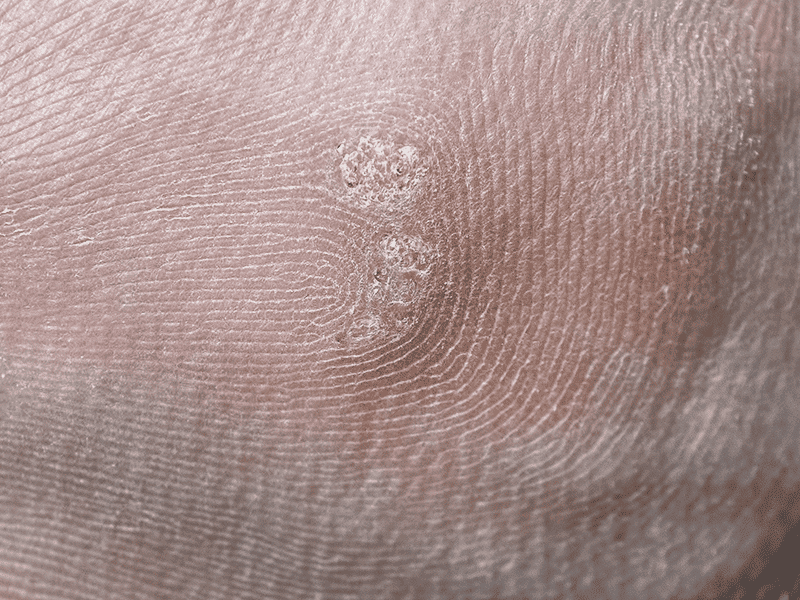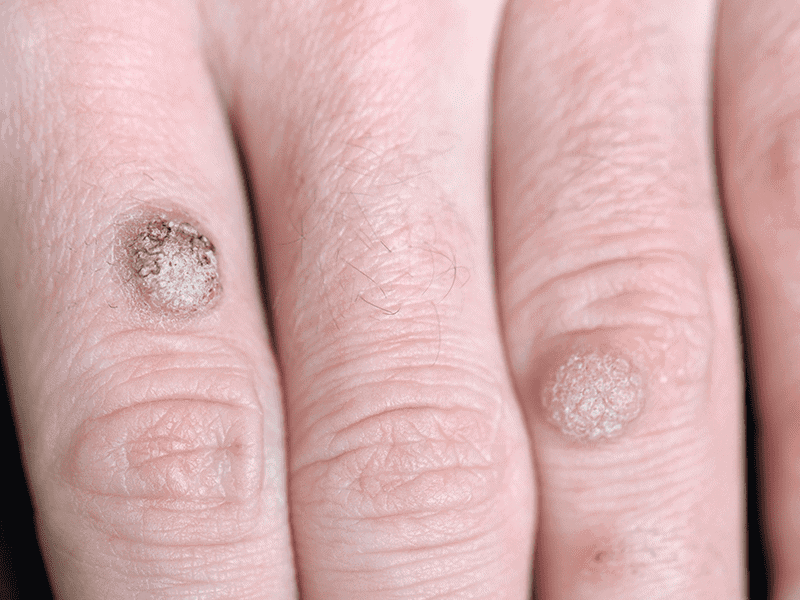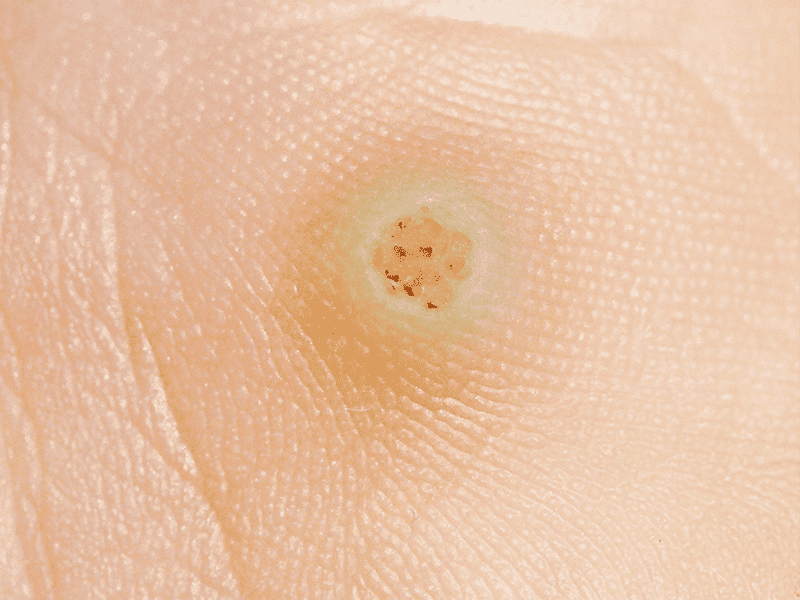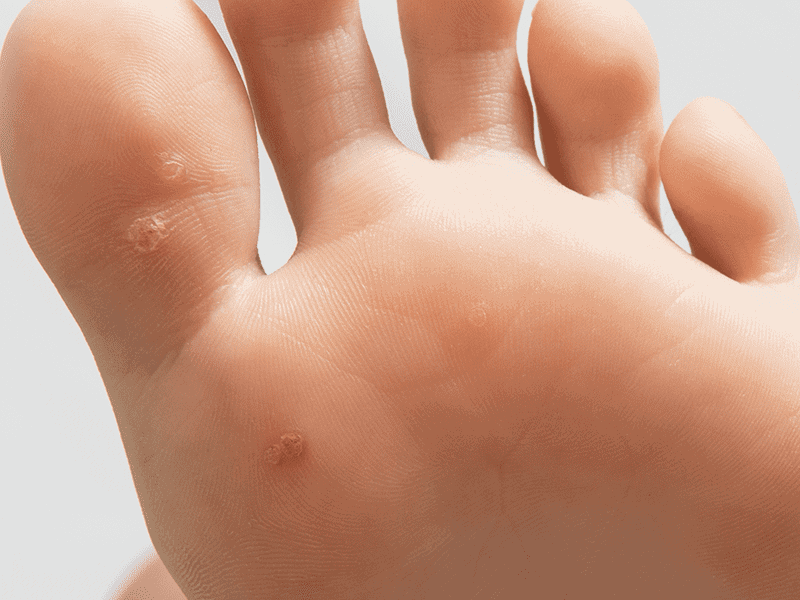 HOW CAN WARTS & VERRUCAE BE TREATED?
Warts and Verrucae can be diagnosed simply by looking at the affected parts of your skin. Warts are usually harmless and heal by themselves, however, treatment can speed this process up. Treatment options include:
Chemical treatments (salicylic acid or formaldehyde preparations depending on the type of wart)
Cryotherapy (freezing the skin cells with liquid nitrogen)
Wart Removal under local anaesthetic
Treatment with diphencyprone (this is painted onto the warts every 2-4 weeks and provokes an allergic reaction which boosts the natural immune response against the wart virus.)
Treatment for warts are not always effective first time, and a wart can sometimes recur. However, your dermatologist will be able to recommend the best treatment options for you.
New to the Harley Street Dermatology Clinic is a treatment for difficult warts with immune therapy – Diphencyprone (DCP). When DCP is applied to the skin, it boosts the immune response in the skin and this helps to clear the virus responsible for causing warts and verrucas. 80-90% of patients with warts will respond to treatment with DCP. If your warts have not responded to standard therapies, there is a good chance they may be cleared with DCP therapy.
Our Specialist Dermatologists at the Harley Street Dermatology Clinic can offer effective treatment to help cure or control viral warts.
FREQUENTLY ASKED QUESTIONS
Start Your Journey With Us
Please fill in this form and one of our team will give you a call back to arrange a consultation with one of our expert dermatologists.
WHY TREAT YOUR WARTS & VERRUCAE AT THE HARLEY STREET DERMATOLOGY CLINIC?
Having the right dermatologist is important especially when you have a chronic skin condition that will require ongoing treatment. We want you to feel confident that we're providing you with the best possible care. We also want you to feel as comfortable as possible with your dermatologist.
The Harley Street Dermatology Clinic specialises in conditions affecting the skin, hair and nails. Our goal is to provide all the care that you need when you're experiencing these kinds of problems. We want to make it easy for you to access the best quality treatment and support for your wart removal London.
The clinic is conveniently located in Central London, so it's easy to visit us if you need to see a dermatologist. You will find yourself in a very comfortable and welcoming environment. We have created a relaxing space where you will receive the highest quality of care. We are regulated by the Care Quality Commission, are part of the British Association of Dermatologists and are top rated by patients of Doctify so you can be sure of safe and effective treatment with us.
Warts & Verrucae Treatment Process:
Latest INSIGHTS AND ADVICE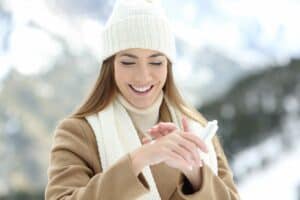 Winter weather can take a heavy toll on our skin. We are constantly stepping between the warm, heated rooms indoors and the cold, dry air outside. We also tend to wrap up more at this time of year, which can cause problems if clothes are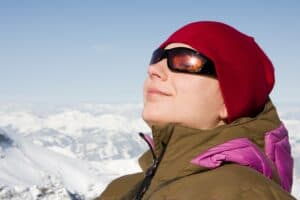 Sun damage isn't usually a problem in the UK in winter. The UV rays are not usually strong enough at this time of year to cause sunburn, but they can still affect your skin. Sun damage is responsible for many of the skin conditions treated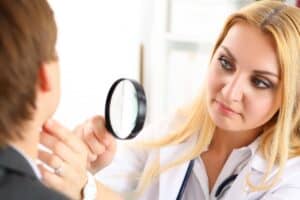 The vast amount of often conflicting skincare advice that is out there can be overwhelming, but there are a few important skin tips that your dermatologist would like you to remember.