Skin Tag and Wart Removal London
Get Expert Advice
Not sure about your condition?
Treating Skin Tags, Warts and Verrucae In London.
Skin tags are small, harmless growths that hang off the skin and look similar to warts. They are typically flesh-coloured or brown and vary in size from a couple of millimetres up to 5cm wide. Anyone can develop skin tags at any stage in their life, but they're most common in older people and those with diabetes; pregnant women may also develop them due to hormonal changes.
Warts are caused by the human papilloma virus, which enters the skin surface, causing growth and thickening of the top (epidermal) layer of the skin. This produces the rough, hard texture of a wart. The strain of HPV that causes warts and verrucas is different from the ones that are linked to cervical cancer, so you can get a wart or verruca even if you have had the HPV vaccine.
Verrucas are simply warts that have formed on the sole of the foot. Since they are under pressure from the foot, verrucas are usually flatter than warts. Verrucas are also more likely to feel painful, because of this pressure.
WHAT DO WARTS AND VERRUCAE LOOK LIKE?
Warts appear most often on the hands and feet, though they can spread to other parts of the body, for example around the nails, lips and genitals. Verrucas are warts that develop on the soles of the feet. Warts vary in appearance depending on where they are on the body and how thick the skin is but the common wart is often round, firm and raised, with a rough or 'warty' surface (see pictures). On close inspection, many tiny black dots may be seen in the centre, caused by ruptured blood vessels. These ruptured blood vessels are more likely to be seen on verrucas, because they have been compressed underneath the foot.
Warts and verrucas can be classified into several different types based on how they look:
Common wart: a round, raised growth with a rough surface that is sometimes compared to the texture of a cauliflower. These types of warts are usually seen on the hands and can grow up to 1cm across, although most are just a few millimetres in diameter.
Plantar wart or verruca: a wart on the sole of the feet that usually looks flattened and has tiny black dots in it where the blood vessels have burst. Clusters of verrucas can sometimes join together to form mosaic warts.
Flat or plane wart: a smooth, round growth that can be flat or slightly raised. These types of wart often appear on the face, neck, legs or the backs of the hands. Sometimes they form large clusters of tend or even hundreds of warts.
If you notice any unusual growths or patches on your skin then it is always best to get them checked by an expert. Although it is probably just a wart or verruca, there is a small chance that a growth could be something more serious such as a skin cancer.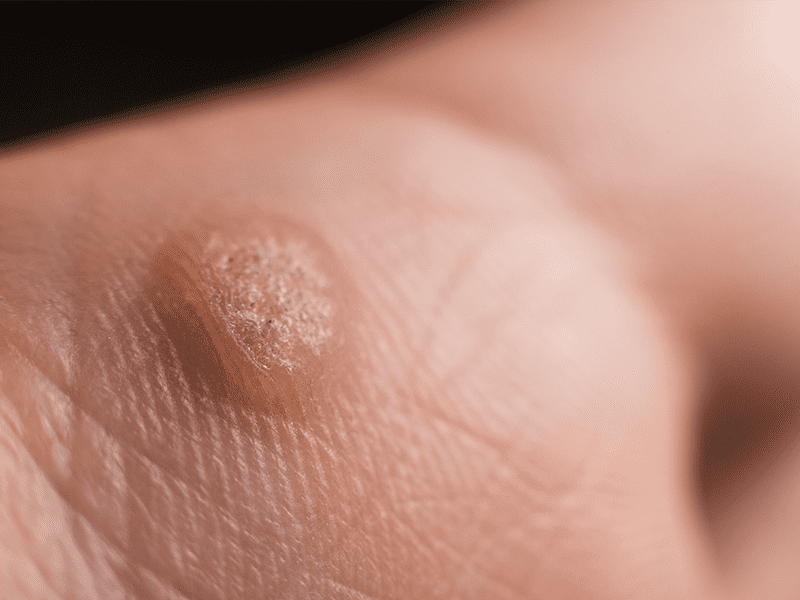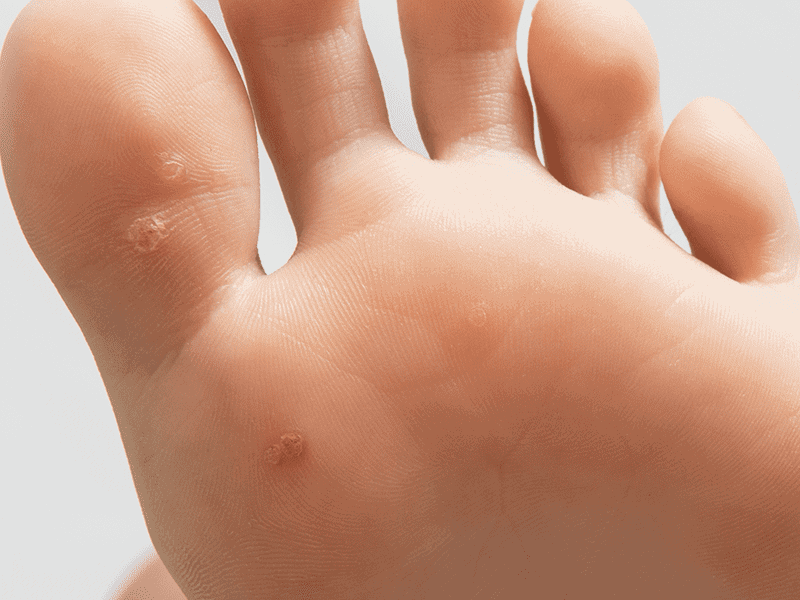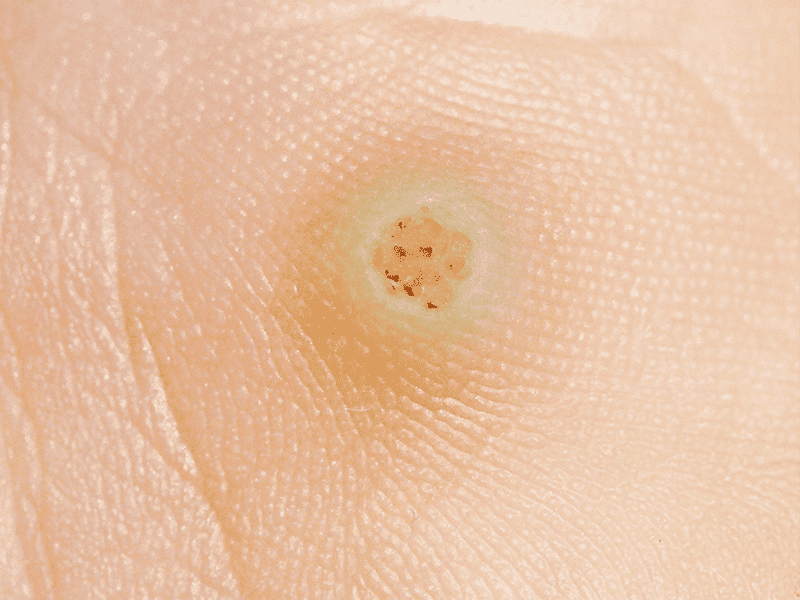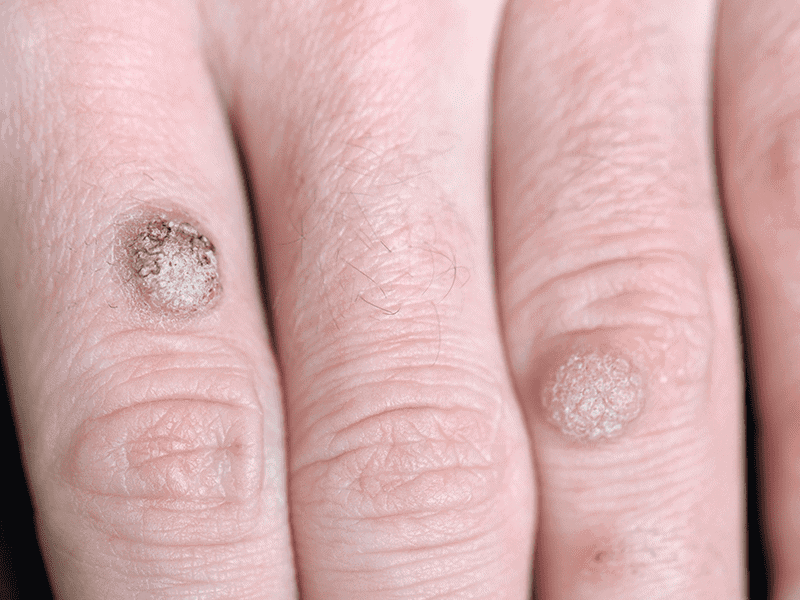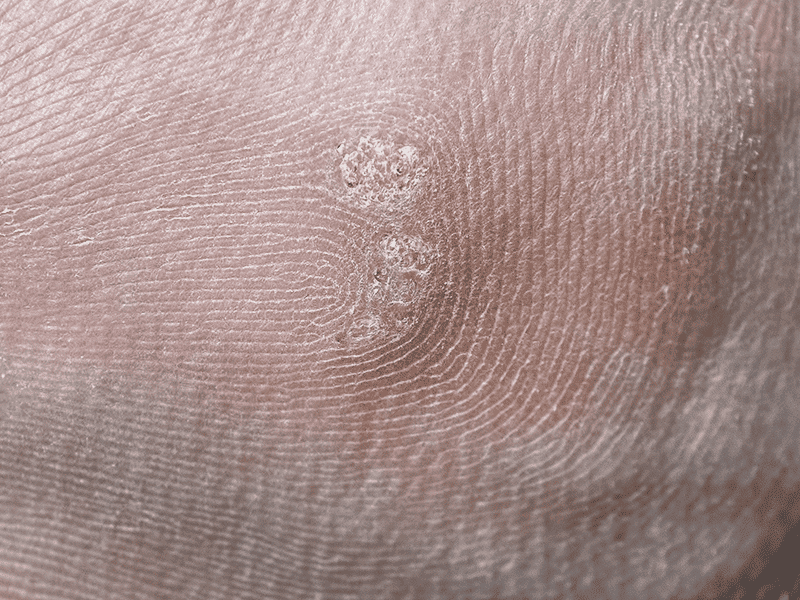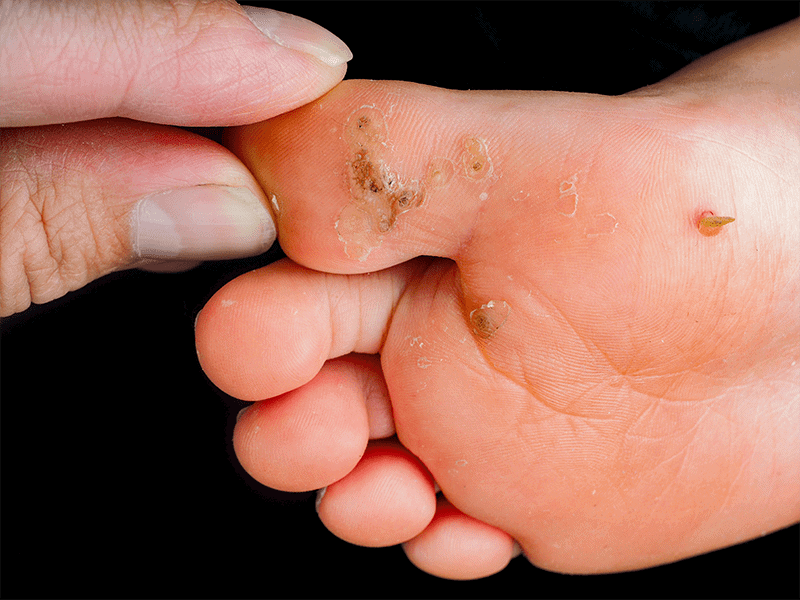 HOW ARE SKIN TAGS, WARTS AND VERRUCAE TREATED?
Our team of dermatology specialists are able to remove skin tags, warts and verrucae via methods including snip cautery, cryotherapy (liquid nitrogen) and/or laser treatment. Skin tag or wart removal is perfectly safe and effective, leaving little to no lasting marks of their existence.
If you'd like to find out more about our skin tag or wart removal options please get in touch and we'll be happy to answer your questions and book you in for a consultation with one of our skin specialists.
FREQUENTLY ASKED QUESTIONS
Please fill in this form and one of our team will give you a call back to arrange a consultation with one of our expert dermatologists.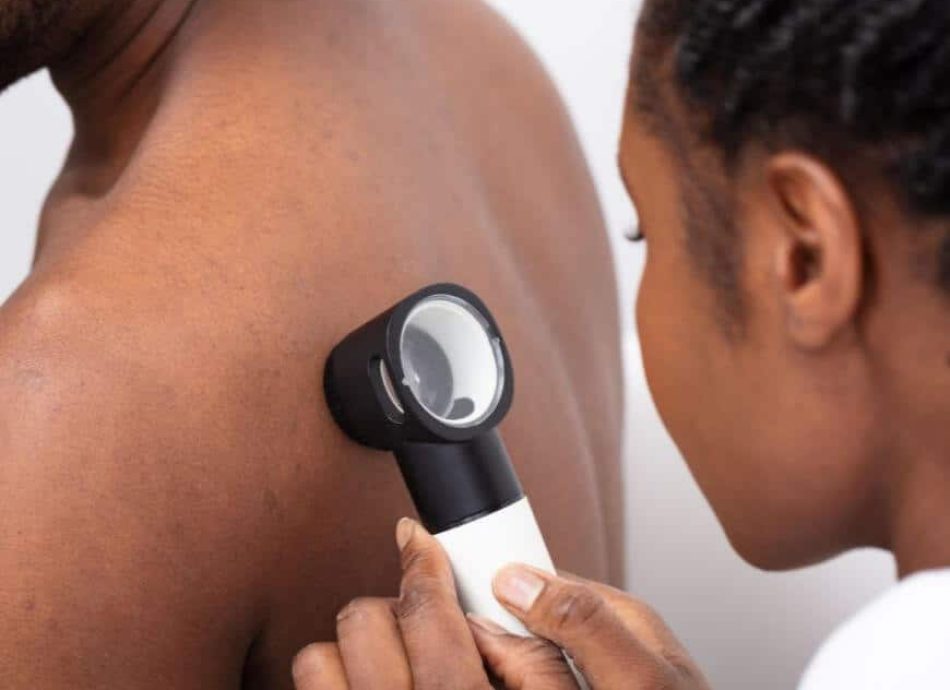 WHY TREAT YOUR SKIN TAGS, WARTS OR VERRUCAE AT THE HARLEY STREET DERMATOLOGY CLINIC?
Having the right dermatologist is important especially when you have a chronic skin condition that will require ongoing treatment. We want you to feel confident that we're providing you with the best possible care. We also want you to feel as comfortable as possible with your dermatologist.
The Harley Street Dermatology Clinic specialises in conditions affecting the skin, hair and nails. Our goal is to provide all the care that you need when you're experiencing these kinds of problems. We want to make it easy for you to access the best quality wart removal in London.
The clinic is conveniently located in Central London, so it's easy to visit us if you need to see a dermatologist. You will find yourself in a very comfortable and welcoming environment. We have created a relaxing space where you will receive the highest quality of care. We are regulated by the Care Quality Commission, are part of the British Association of Dermatologists and are top rated by patients of Doctify so you can be sure of safe and effective treatment with us
latest INSIGHTS AND ADVICE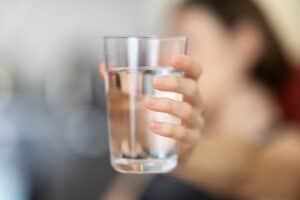 Get Expert Advice Not sure about your condition? Get in touch now, there is no reason for you to wait. Call US: 020 3322 7852 Request a Callback THE POWER OF WATER – THE BEST DRINK IN THE WORLD Water is the most important drink
Read More