Alopecia – Hair loss treatment in london
Not sure about your condition? Get in touch now, there is no reason for you to wait.
Looking for Hair Loss Treatment IN LONDON?
Alopecia and hair loss mean the same thing; reduction in hair density and increased hair fall. This can be a diffuse process or occur in localised areas on the scalp or other areas of the body. It can occur slowly over many years, or be rapidly progressive, occurring over days or weeks. There are many causes for alopecia which can broadly be grouped into three categories: internal deficiencies, scalp disease or 'other' causes. The most important distinction is whether scarring is a feature or not, because this will dictate how successful treatment can be.
Hair loss can occur for many different reasons and it is a very common and distressing problem. At the Harley Street Dermatology Clinic, we know just how troubling it can be to lose one's hair. The most important step is to firstly establish the cause for your hair loss, and then, provided it is treatable, to try and reverse it.
If you are suffering from hair loss, the sooner you seek treatment the better results will be, and no amount of hair loss is too small to seek advice about. If you have already tried over the counter remedies and are still suffering from hair loss, we can help. Our experts hair loss dermatologists are able to diagnose your hair loss and to treat it in the most effective way for you.
Alternative names: male/female pattern baldness, alopecia, alopecia areata, scarring/cicatricial alopecia, pseudopelade (of Brocq), folliculitis De Calvans, dissecting cellulitis, telogen effluvium.)
Hair loss can happen for many reasons and progress in a variety of patterns. You may have noticed a patch of baldness that has begun to grow, or a receding hairline at your temples or forehead and decided to do something about it before it gets any worse. Or, you may have noticed an increase in hairs on your pillow or clothes, indicating that you are shedding hairs at an increased rate, even if there is no visible thinning of the hair. Whatever concerns you have about your hair or scalp, our experts at Stratum Dermatology Clinic are here for you. Every case is unique and we provide each patient with personalised specialist care and treatment to achieve the best results possible, whatever the cause.
What Are The Main Types Of Hair Loss?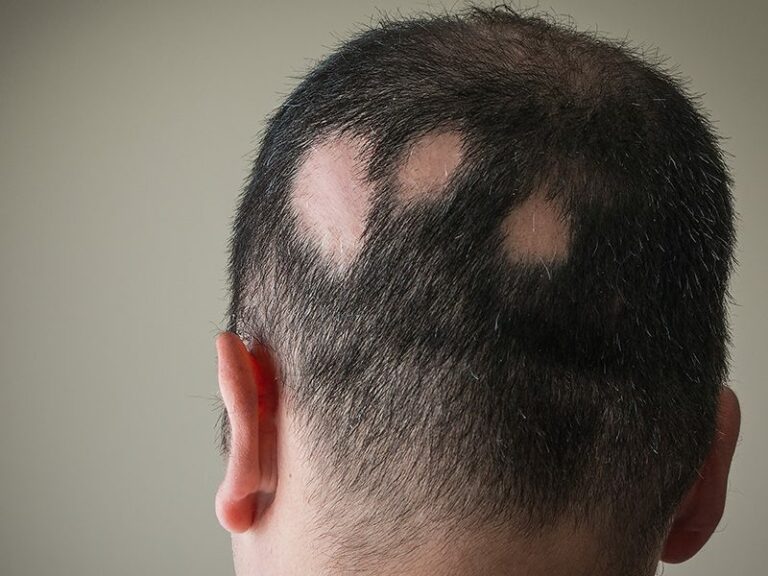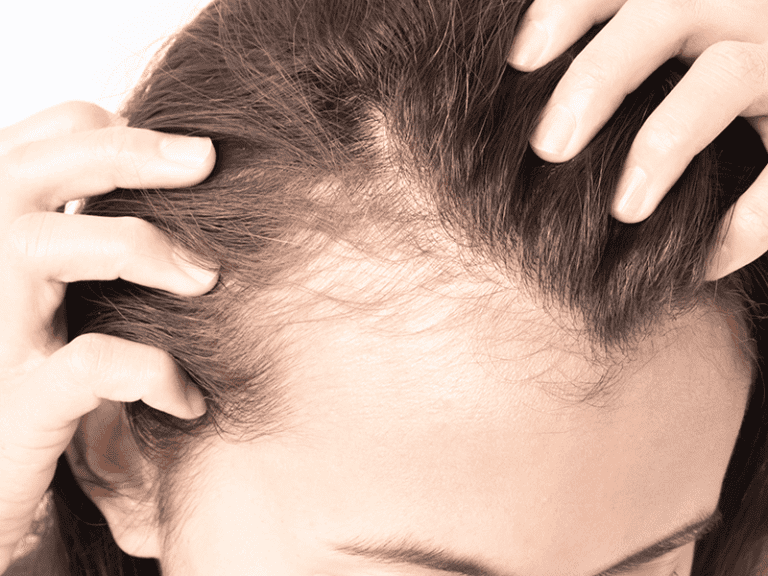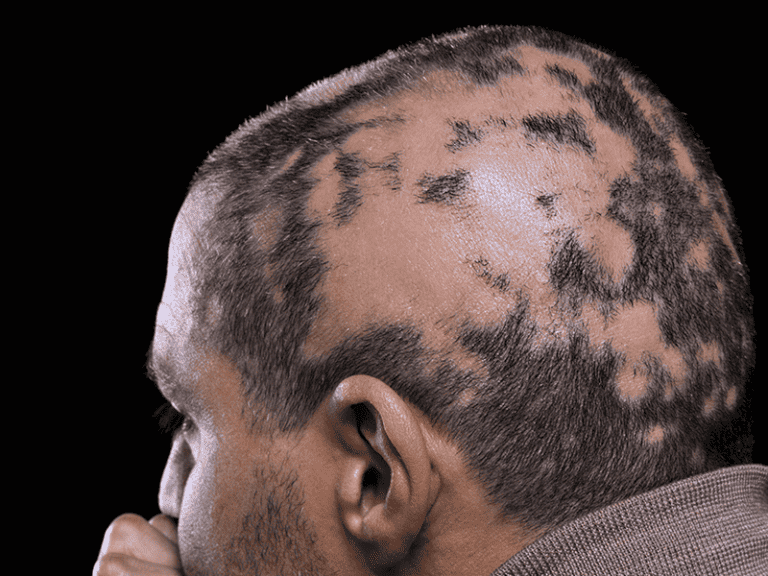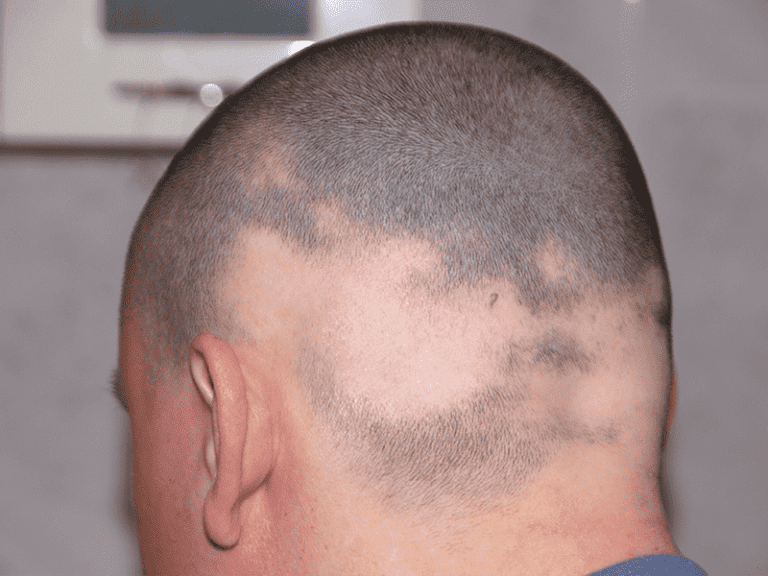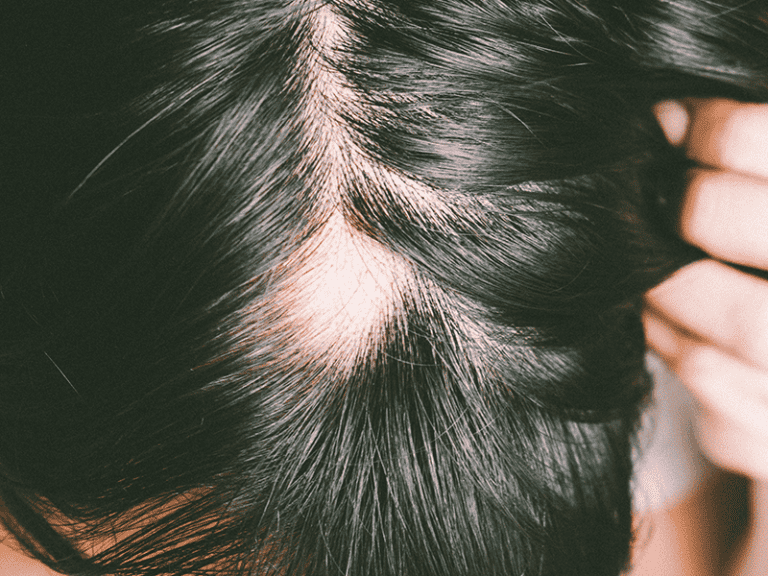 HOW CAN HAIR LOSS BE TREATED?
The most important part of treatment is to make the correct diagnosis. Our specialist hair loss consultants are fully qualified with the right experience to diagnose the cause of hair loss. Diagnosis involves a consultation, full scalp examination and sometimes blood testing to establish if there is a deficiency or hormonal problem. If scalp disease is present or a diagnosis is not straightforward, a scalp biopsy might be undertaken to examine the process at a microscopic level.
The key to treatment is establishing if the condition is scarring or not. If it is scarring, it is important to switch off the process as quickly as possible to prevent progression, as scarred areas will not regrow. Non-scarring alopecia can recover fully with treatment but may gradually progress over time. It is vital to make the correct diagnosis and prevent any scarring, or alopecia can become irreversible.
The current options of treatment for hair loss include prescription drugs, which can bring partial improvements, surgical hair restoration which addresses symptoms but not the underlying medical problem, and platelet rich plasma which is a newer treatment and has shown benefit in multiple recent studies in hair restoration.
Common Alopecia Treatments Include:
Diagnostic Consultation
Tricotest (For Hair Loss)
Diphencyprone (DCP)
Scalp Biopsy
Drugs & Oral Medication
Topical Creams & Medications
Steroid creams can be applied to bald patches to stimulate hair growth and steroid injections can be used to treat small patches of hair loss. Tablets can be taken to encourage hair growth but alopecia can often return when the treatment stops.
Platelet Rich Plasma (PRP) is a pioneering new treatment that is highly effective and uses the patient's own platelets cells from their blood, which are rich in various growth factors, to stimulate hair growth. The growth factors in PRP can hugely benefit people suffering from hair loss or hair thinning. Current estimates suggest that a benefit is attained in at least 30-40% of selected patients. PRP serves to promote the growth of hair by stimulating the stem cells located in the dermal papilla along with the other cell structures present in the hair follicle. PRP cannot cause growth of new hair follicles once they have died or where they have not existed before.
The technique of platelet rich plasma involves the withdrawal of your own blood, which is then processed into separate blood components of Platelet-Rich Plasma, Platelet-Poor Plasma and Red and White Blood Cells. Using a small needle, the platelets are then injected strategically into your scalp in the areas that need improvement. The whole procedure takes around 20-30 minutes and a course of three sessions (one per month) are advised, followed by a possible fourth treatment depending on the severity and placement of your hair loss. One or two maintenance treatments per year are recommended. The length of your treatment will be discussed with you during your hair loss consultation.
Diphencyprone (DCP), also known as Diphenylcyclopropenone (DPCP), is an organic compound that is most often used in the treatment of alopecia areata. DCP works by inducing an allergic reaction in the skin, which leads to inflammation and the formation of new hair follicles. The treatment is typically applied once per week, and may need to be continued for several months before results are visible. Although DCP can be effective in treating alopecia areata, it can also cause side effects such as itching, redness, and burning. As a result, patients should be carefully monitored by a physician during treatment.
FREQUENTLY ASKED QUESTIONS
WHY TREAT YOUR HAIR LOSS AT THE Harley Street DERMATOLOGY CLINIC?
Having the right dermatologist is important especially when you have a chronic skin condition that will require ongoing treatment. We want you to feel confident that we're providing you with the best possible care. We also want you to feel as comfortable as possible with your dermatologist.
The Harley Street Dermatology Clinic specialises in conditions affecting the skin, hair and nails. Our goal is to provide all the care that you need when you're experiencing these kinds of problems. We want to make it easy for you to access the best quality hair loss treatment in London.
Our hair loss clinic in London is conveniently located in Central London, so it's easy to visit us if you need to see a dermatologist. You will find yourself in a very comfortable and welcoming environment. We have created a relaxing space where you will receive the highest quality of care. We are regulated by the Care Quality Commission, are part of the British Association of Dermatologists and are top rated by patients of Doctify so you can be sure of safe and effective treatment with us.
latest INSIGHTS AND ADVICE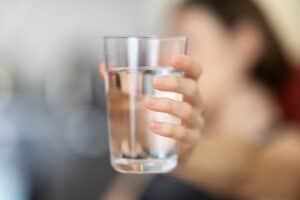 Get Expert Advice Not sure about your condition? Get in touch now, there is no reason for you to wait. Call US: 020 3322 7852 Request a Callback THE POWER OF WATER – THE BEST DRINK IN THE WORLD Water is the most important drink
Read More